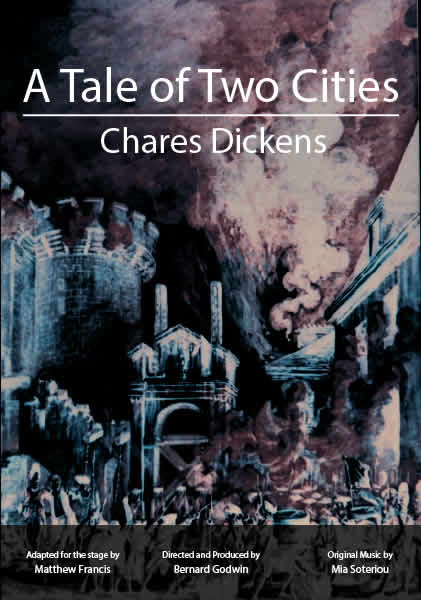 by Charles Dickens
Adapted by Matthew Francis, 1994
About
As their spring production, The Magdalene Players are proud to present Charles Dickens' masterpiece A Tale of Two Cities in an adaption by Matthew Francis. A story of love, sacrifice, honour and revolution, from the echo of the first line 'It was the best of times, it was the worst of times' to the final 'It is a far far better thing that I do than I have ever done', Dickens' story tells of the redemptive powers of love in the face of cruelty, violence and neglect.
Originally written and published in weekly instalments in 1859, A Tale of Two Cities is set in London and Paris before and during the French Revolution. It shows the plight of the French people under the brutal oppression of the aristocracy in the years leading up to the revolution, and the corresponding savage brutality of the revolutionaries toward the former aristocrats in the years immediately following.
Synopsis
The story follows Charles Darnay, a French former aristocrat, who falls victim to the indiscriminate wrath of the revolution, and Sydney Carton, a dissipated English barrister, who tries to redeem his ill-spent life out of love for Darnay's wife, Lucie Manette.
The events covered in A Tale of Two Cities cover thirty-seven years between 1757 and 1793, the plot develops and builds powerfully from the moment that the story opens, with the coded rumours of Dr Manette being 'restored to life' until, one of the most powerful ending in English literature, as Sydney Carton makes his way to his final appointment with Madame Guillotine.
Cast
| | |
| --- | --- |
| Attorney General | David Ashton |
| Gabelle | David Ashton |
| Gaspard | David Ashton |
| Charles Darnay | Jack Fulford |
| Defarge | Nick Comlay |
| Mr. Stryer | Nick Comlay |
| Lucie Manette | Vicky Johnson |
| John Barsad | Guy Johnson |
| Marquis St. Evremonde | Guy Johnson |
| Dr. Manette | Nigel Gray |
| Miss Pross | Caroline Goldston |
| Narrators | Arabella Gordon |
| Narrators | Claire Clarke |
| Carton | Aidan Godwin |
| Young Dr. Manette | Aidan Godwin |
| Citizen | Karen Wilson |
| Madame Defarge | Karen Wilson |
| Coachman | Jonathan Murray |
| Judge | Jonathan Murray |
| President | Jonathan Murray |
| Citizen | Kitty Gilbert |
| Lorry | Martin Smith |
| Citizen | Emily Rice |
| Servant | Emily Rice |
| Boy | Felix Rackow |
| Citizen | Felix Rackow |
| Crew | |
| Director | Bernard Godwin |
BACK TO PRODUCTIONS LIST